22 Dec

Casella Prize 2020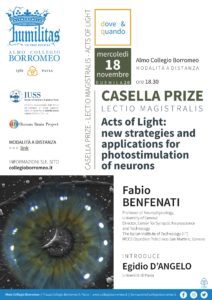 CASELLA PRIZE – LECTIO MAGISTRALIS
Acts of Light: new strategies and applications for photostimulation of neurons
Fabio Benfenati
Professor of Neurophysiology,
University of Genova
Director, Center for Synaptic Neuroscience and Technology
The Italian Institute of Technology (IIT)
IRCCS Ospedale Policlinico San Martino, Genova
introduce
Egidio D'Angelo
Università di Pavia
mercoledì 18 novembre, h 18.30
LOCANDINA
Mercoledì 18 novembre, alle 18.30, l'Almo Collegio Borromeo di Pavia ospiterà un appuntamento scientifico di portata internazionale: il "Casella Prize", in memoria del professor Cesare Casella, Alunno del Borromeo scomparso nel 2014 già direttore dell'Istituto di Fisiologia dell'Università di Pavia e presidente del Consiglio di Amministrazione del Collegio.
Il Premio 2020 sarà assegnato dal Collegio Borromeo al professor Fabio Benfenati, oridnario di Neurofisiologia presso l'Università di Genova e Direttore del Center for Synaptic Neuroscience and Technology presso l'Istituto Italiano di Tecnologia (IIT, Italian Institute of Technology).
Il professor Benfenati terrà una lectio magistralis (in lingua inglese) dal titolo "Acts of Light: new strategies and applications for photostimulation of neurons".
Introdurrà la lectio il professor Egidio D'Angelo, ordinario di Fisiologia al Dipartimento di Scienze
del Sistema Nervoso e del Comportamento dell'Università di Pavia.
Incontro riconosciuto dall'Istituto Universitario di Studi Superiori IUSS di Pavia fra le attività extra-classe dei Corsi Ordinari.